Hopefully You Will Never Need Sabre Pepper Spray!
Hopefully, you will never ever have the need to use a self-defense device like a personal taser or a canister of Sabre pepper spray...hopefully...
But sadly, and as we all know it, times they are a-changing!
Our parents and grandparents speak fondly and tell us of the times when doors were left unlocked, neighbors and even strangers in the street were friendly, helpful, and caring and people generally looked out for and after each other.
It is a damn tragedy, but - Those days no longer exist!! Times are tough. Unemployment is high and there are a lot of people doing it hard.
Homelessness and poverty are at record high levels and this leads to desperation and unknown circumstances, which we need to protect ourselves from!
Due to many reasons, there are so many more people out there who are desperate.
Desperate for cash, desperate for possessions, desperate for drugs. Even desperation for their next meal! As a result, the frequency of general, unprovoked attacks, muggings, and robberies has never been higher. It is so much easier and more common these days to simply be in the wrong place at the wrong time.
Sabre Pepper Spray Can Help Put the Odds Back In Your Favor!
Understanding the Basics: A Comprehensive Guide to Sabre Pepper Spray
Sabre Pepper spray is a popular self-defense tool that many individuals rely on to deter potential attackers. It is a non-lethal option that can effectively incapacitate an assailant, giving you the precious moments needed to escape and seek safety.
What is Pepper Spray?
Pepper spray, also known as OC spray (oleoresin capsicum), is a chemical compound derived from hot chili peppers. The active ingredient in pepper spray is capsaicin, a naturally occurring oil that causes severe irritation and inflammation when it comes into contact with the eyes, nose, and throat.
Most commercial pepper sprays contain a mixture of capsaicin oil, a solvent, and a propellant. The solvent helps keep the oil in a liquid form, while the propellant enables the spray to be ejected from the canister effectively.
How Does Pepper Spray Work?
When Sabre pepper spray is sprayed onto an individual's face, the capsaicin oil irritates the mucous membranes of the eyes, causing intense burning, swelling, and temporary blindness. It also affects the respiratory system, creating difficulty in breathing, coughing, and a choking sensation.
The effects of pepper spray are immediate and can last anywhere from 30 minutes to an hour, providing sufficient time for you to escape and seek help. It is important to note that pepper spray affects individuals differently, and some may have a higher tolerance or be less affected by its effects.
Choosing the Right Pepper Spray
There are various types of pepper sprays available on the market, each with its own set of features. When choosing the right pepper spray, it is essential to consider its potency, range, and size. Higher potency sprays contain a higher concentration of capsaicin oil, making them more effective. The range of the spray refers to how far it can reach, and the size determines its portability and ease of use.
It is advisable to choose a reputable brand with reliable customer reviews to ensure the quality and effectiveness of the spray. Additionally, some pepper sprays come with additional safety features, such as a locking mechanism or UV dye to assist law enforcement in identifying attackers.
Using Sabre Pepper Spray Safely and Effectively
When using pepper spray, proper technique and awareness are crucial. Here are some guidelines to follow: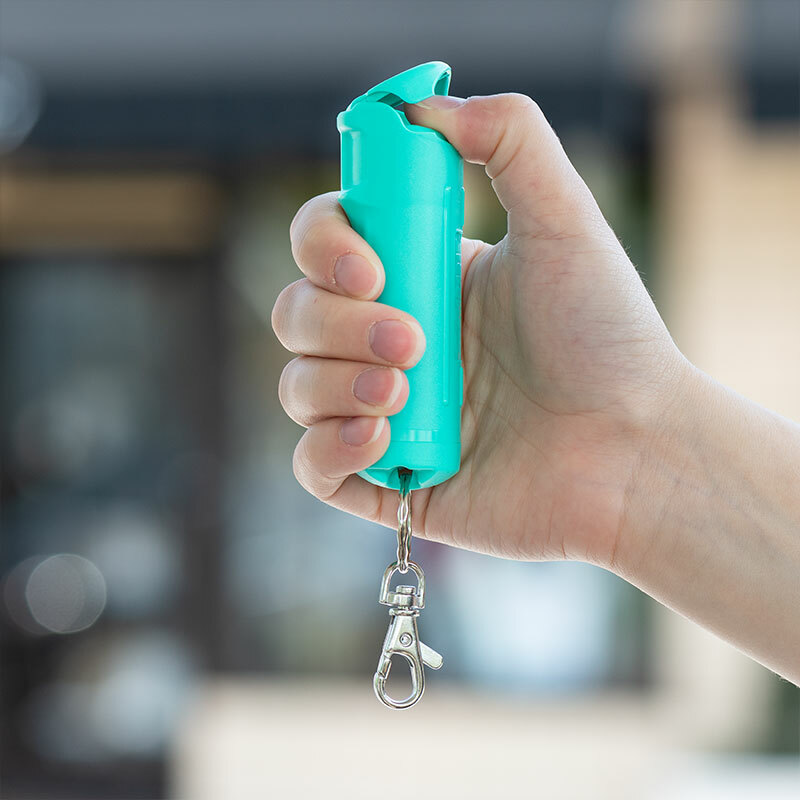 Hold the pepper spray canister securely in your hand, ensuring it is ready for use.
Position yourself with a firm and balanced stance, ready to react quickly.
Aim for the attacker's face, explicitly targeting the eyes, nose, and mouth.
Press the spray button firmly, releasing a consistent stream or mist of pepper spray.
After discharging, quickly move away from the assailant while keeping an eye on their movements.
Once you are safe, promptly wash your hands, face, and any affected areas with cold water and soap.
Seek medical attention if necessary, and report the incident to the appropriate authorities.
Remember, pepper spray is a self-defense tool, and using it responsibly and only when you feel threatened is crucial. Familiarize yourself with the local laws regarding pepper spray possession and use to ensure legal compliance.
Conclusion
Understanding the basics of pepper spray empowers individuals to make informed decisions when it comes to self-defense. By knowing how it works, choosing the right spray, and using it safely and effectively, you can enhance your personal safety and protection in potentially dangerous situations.
A Cannister of Sabre Pepper Spray Can Make All the Difference!
Sabre Pepper Spray is the ideal option and the best pepper spray when it comes to self-defense. Pepper Spray can be the ultimate insurance policy against attacks when you need it the most.
The products below are some of the most popular choices for people looking to purchase pepper spray.
Find out the best price by clicking any of the images below!